Experience the lightness of sliding

Discover the multifaceted sliding door fitting Hawa Combino.
Hawa Combino: Sliding door fitting for cabinets and sideboards
Now with even greater flexibility and comfort
Realizing cabinets with wooden doors in 16 different designs with a single fitting system: Made possible by Hawa Combino. Because this versatile fitting system has been completely redesigned in accordance with the rulebook of the art of sliding.
16 designs with one sliding fitting system
Maximum design freedom in furniture construction with 16 different cabinet designs.
Extremely quiet thanks to the new Hawa Comfort Roller
Newly developed roller technology which reduces rolling resistance significantly, and ensures that the sliding doors operate quietly.
Innovative soft closing mechanism for very easy operation
New soft closing technology for almost silent, harmonious soft closing movement – with modern two-sided center door soft closing mechanism.
Silence that you would like to sleep in

Hawa Combino in the bedroom

Flexibility that you would like to work in

Hawa Combino in the office

Comfort that you would like to live in

Hawa Combino in the living room
At a glance: the system advantages of Hawa Combino
Start the film – Hawa Combino in action
Easy running track and door installation
Quick installation of the soft closing mechanism
Door and side adjustment made easy
Product range overview and accessories
---
Which version suits your plans?
The application options of the Hawa Combino sliding fitting system for wooden doors in the new weight classes up to 80 kg at a glance.
Sideboard, highboard

Sideboard

Tall cabinet

Weight max.

20 – 35 kg

40 kg

50 – 80 kg

Height (mm)

- 2200

- 2000

- 2800

Width (mm)

- 1200

- 1500

- 1600

Designs

Inslide (IS),
Forslide (FS),
Mixslide (MS)

L-shaped furniture

Inslide (IS),
Forslide (FS),
Mixslide (MS)
---
Stability thanks to straightening fitting
No door warping, even after years: The new straightening fitting for the Hawa Combino stabilizes wooden doors weighing up to 80 kg. It blends into the surface of the door in a filigree way, can be glued on or fitted with brackets, and is now also available in the elegant anodized black designer version.
with brackets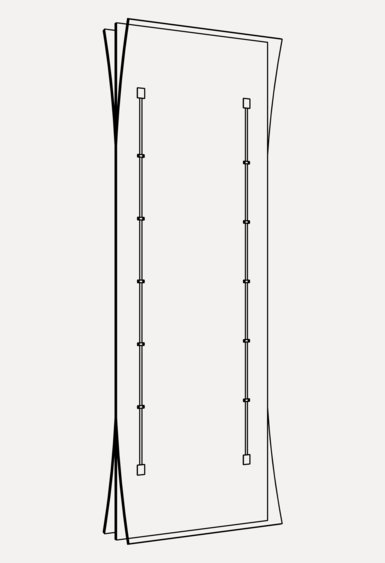 without brackets
---
Customized finishing
In order to enhance the appearance of the cabinet, we can provide aluminum handle profiles in three different design versions. All handle solutions are coordinated with the fitting.
Screwed on.
Can be operated from the front and the rear.
Glued on.
Can be operated from the front.
Screwed on.
Can be operated from the front.

---
Maximum safety and service life
All components of the Hawa Combino have been tested for the maximum service life at the highest safety level. This corresponds to 5 sliding movements per day for more than 25 years. The new catch that has been integrated in the system also prevents the doors from coming off their hinges.
The rollers are automatically blocked by the catch (red) after the doors are put onto their hinges.
Downloads and further information