The most elegant path to improved quiet

Hawa Junior Acoustics — the advantages of sliding doors, combined with effective sound attenuation.
Hawa Junior Acoustics: Fitting for sliding doors with sound attenuation
More private sphere in interior design thanks to sliding solutions with sound attenuation: The new Hawa Junior Acoustics does not only provide effective sound attenuation, but also keeps odors, drafts and light out. You can therefore flexibly design those retreat zones which are so important using this innovative system extension, even in open architecture concepts.
Room acoustics influence your quality of life
Many people have been spending more time at home in recent months, and have experienced how interfering noise can be. Being able to work and spend time on your hobbies in peace and quiet is essential, and the desire for discretion has also increased accordingly. Not just between neighbors, but also within the same office or living situation.
From an architectural point of view, this has led to structural acoustics playing a more important role in planning as the basis of the usage concept. And that a solution such as Hawa Junior Acoustics, which doubles the space-saving characteristics of sliding doors with effective sound attenuation, provides new possibilities. For architects, designers and acousticians, and also the residents.
More about acoustics and use of space
The sliding hardware seals it
Tightly closing sliding doors with "Hawa Junior Acoustics" make it possible to keep out interfering noise from an atrium if necessary, and provide protection from drafts that blow in through the entrance door during the winter.
A situation such as this arose in the reception area of a new building in South Tyrol. There is an office directly at the entrance in the two-story foyer with a reception desk and a central atrium as a meeting area. In spite of the open architecture, the balancing act of being able to switch between open communication and concentrated tranquility was achieved in a flexible and space-saving way – thanks to "Hawa Junior Acoustics".
A project report about the successful use of a sliding solution with sound attenuation.
Find out more
Sliding against sound
Effective sound attenuation on the basis of the well-tried Hawa Junior 100: A classic win/win situation for everyone. Thanks to the innovative sealing system, the transmission of sound from room to room is reduced by up to 41 dB. Unwanted light incidence, drafts, water vapor and kitchen odors are kept out. And all this never comes at the expense of comfort:
Operation is as easy as usual, and in the version with Hawa SoftStop, even closing is quiet and gentle.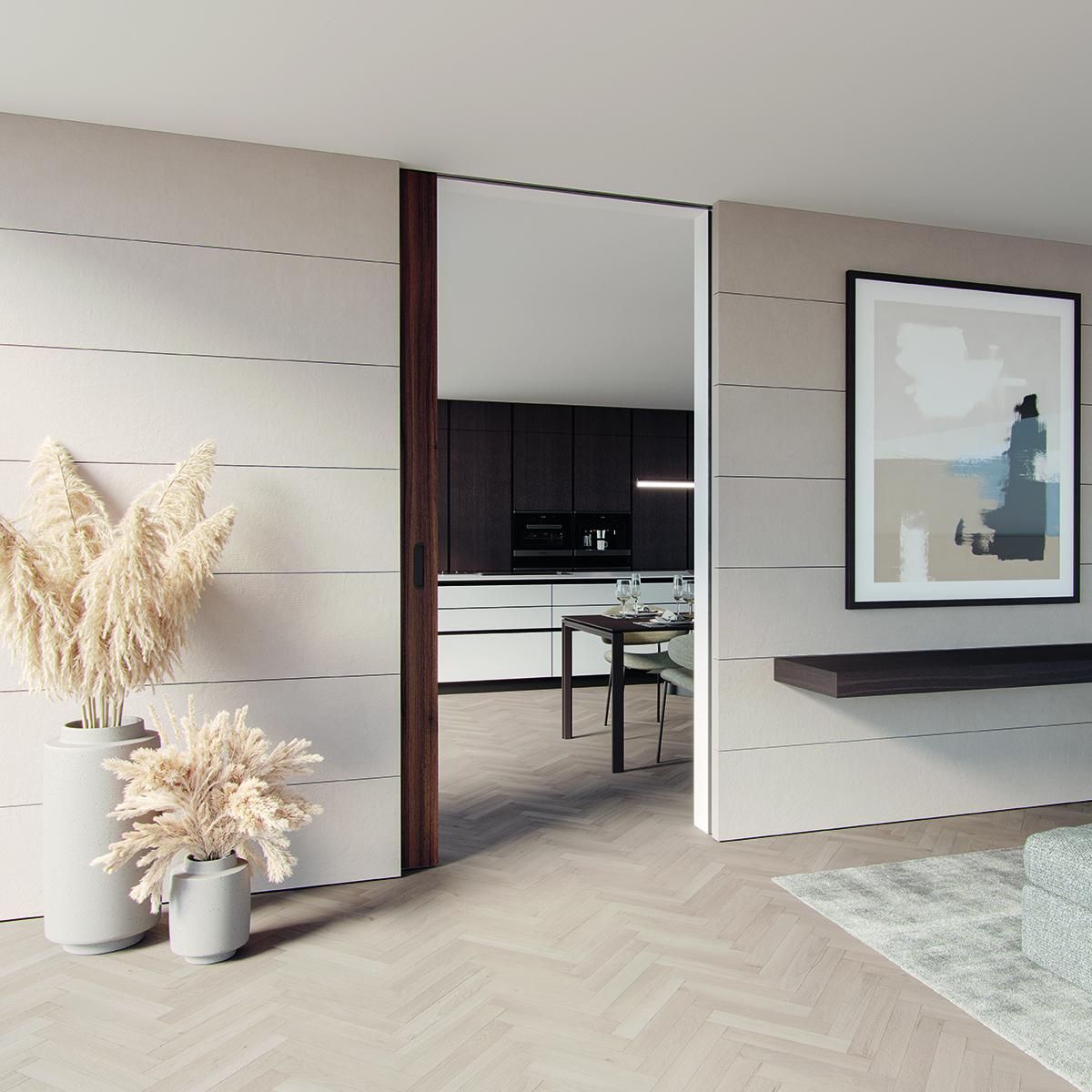 Peace and quiet which is also easy on the eye
The users are pleased about the additional privacy and quality of life which a Hawa Junior Acoustics brings. Architects and designers love the design freedom which they enjoy with this hardware. It supports both, wall-mounted constructions as well as pocket constructions with floor-to-ceiling applications and can be integrated even after construction is complete. And everyone appreciates the fact that there is little to be seen or heard of the Acoustics technology: Because there are no visible system components to interfere with the elegance of the sliding door design.
At a glance: the system advantages
Downloads and further information
Hawa Porta Acoustics
Another successful sliding door fitting from Hawa impresses with a version with sound attenuation: the new Hawa Porta Acoustics.
Find out more